CT Certification (Level 2)
For those educational leaders who have completed CT Certification, we are adding additional training options designed to continue moving your curriculum planning leadership forward. We have identified a series of specific curriculum mapping areas for which many schools require specific school-wide professional development. The goal of these training sessions will be to equip school leadership to provide specific training to their team. These training options will build on the principles of curriculum planning and instruction through Curriculum Trak and help your school continue expanding the value of your curriculum maps, units, and lesson plans. Review this growing list of topics and plan to join us for those areas that fit best into your upcoming goals.
Making Maps Work for Every Learner - As mission driven educators, we believe that ALL students can learn and that our God calls us to ensure student success through challenging academic rigor and deeply rooted faith formation. Today's emerging disciples come from all walks of life and bring with them a rich slate of learning styles, academic needs, diverse languages, and global cultures. This Level 2 training will offer specific strategies to ensure that your curriculum maps meet the needs of all your learners – from refining a clearly articulated curriculum to defining teaching methods and resources that embrace differentiation, language learning skills, and intervention. We will include specific practices that fit into the Curriculum Trak framework and that you will be able to work with immediately and share with your mapping team.
There will be time built into the training for participants to refine one or more of their existing maps to reflect mapping strategies discussed in the module. The final day will include a "show and tell" session where participants will be expected to share how they have refined one of their course maps to include strategies targeted at the diverse learning needs of their students.
Four Remote Sessions - February 2023
Session 1 - Monday, February 13, 1-3 p.m. EST
Session 2 - Tuesday, February 14. 1-3 p.m. EST
Session 3 - Wednesday, February 15, 1-3 p.m. EST
Session 4 - Thursday, February 16, 1-3 p.m. EST
Registration Required: Only registered users will be permitted to attend this training and earn a certificate of completion. For each registered user, a school can also register their school's Intervention Specialist (or equivalent) for no additional charge. To register regular attendees, an administrative user within your account can click through the Help button to find the Registration option. A registration for Intervention Specialists can be requested through support at support@curriculumtrak.com. Information for attending the event will be provided to each registered attendee directly.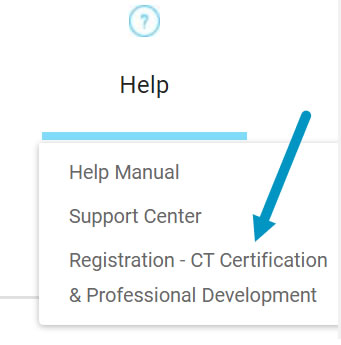 Unless your school is part of the CT Professional Development program which includes certification seats annually, the registration fee is $250 per person regardless of which training plan you choose. Prior completion of CT Certification is required to qualify for the CT PD program pricing.
Attendance Requirement: One of the primary goals of CT Certification is to promote a cohort of Curriculum Trak school leaders. To support that goal, in addition to capping conference attendance at a level best supported by the nature of the event, the training plan will incorporate several breakout sessions for small groups of ten or less apart from the full training group. These breakout sessions will be hosted by existing CT Certified users who will facilitate small-group discussion, answer questions, and provide additional support and insights. In order for any attendee to become certified, each must attend and participate in the corresponding breakout sessions. Each attendee is required to join independently (no shared computers). Attendees who have not registered in advance or allow unregistered people to join the training may be prevented from completing the training.
Remote Training Expectations: Be Fully Present! Curriculum Trak designs its training offerings to be as engaging as possible in a remote setting. In order to help every attendee be successful, we provide a basic checklist of technical and practical considerations we ask every attendee to follow. Find out more here.
Cancellation/Change Policy: In our efforts to serve all attendees fully, we ask that you avoid making changes to your registration less than fifteen days prior to the event. Any necessary changes to your registration should be emailed to support@curriculumtrak.com as soon as possible. The following considerations will be made:
Changes made more than fifteen days prior to the event will incur no penalties. Unpaid invoices will be cancelled and deleted. Paid invoices will be credited to your account for future services. PD seat credits (included in the Professional Development program) will become available to be used later by the same registrant or a different member of your team at some point during the duration of your current term. No extensions will be granted.
Changes made less than fifteen days prior to the event may incur some penalties: Transferring the registration to a different attendee or a later event can occur without concern. Cancellations will result in a 50% reduction in unpaid invoices, or a 50% credit of paid invoices toward future services. PD seat credits (included in the Professional Development program) will become available to be used later by the same registrant or a different member of your team at some point during the duration of your current term. No extensions will be granted.
Registrants who fail to attend scheduled events or cancel their registration on the day of the training will not necessarily be offered credit, discounts, or seat credits except for in the case of extenuating circumstances and then only at the discretion of CT personnel.
Curriculum Trak reserves the right to deny entry or remove attendees who violate the terms of the training. Should this occur, no refunds or transfers will be given.
If you have any questions about these conferences, you can send an email to support@curriculumtrak.com or create a support ticket.