Curriculum Trak is happy to provide a variety of professional development opportunities to support schools. The options outlined below flow mainly from an approach to mapping we call "The Curriculum Trak Way," but modifications or updates can be made to fit your specific needs.
The Curriculum Trak Way
Most of our training focuses on the principles of curriculum planning and instruction we refer to as the "Curriculum Trak Way." We use this terminology to underscore the reality that there are many different ways to engage in curriculum mapping. While Curriculum Trak is highly customizable and will support any approach you may have adopted, our desire is to clarify the specific principles and practices upon which Curriculum Trak has been designed in order for you to achieve the best possible outcomes. Much of the training and professional development opportunities we provide flow from this approach, but we are happy to support your curriculum efforts through Curriculum Trak regardless of which specific practices you have adopted for your school. You can see a chart summarizing this general approach here.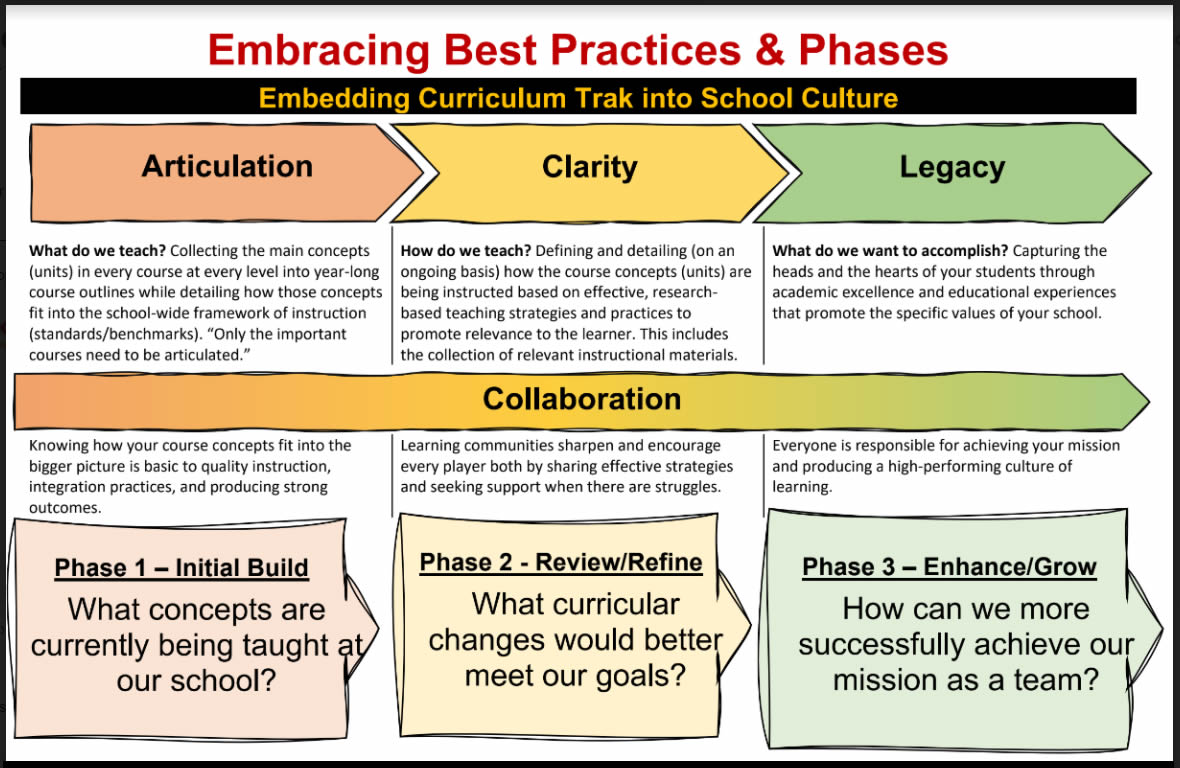 Train-The-Trainer
Our basic philosophy for professional development is that school-based leadership is best equipped to speak into the specific practices of the local instructional team. For that reason, we make every effort to equip the curriculum champion at every school to serve as the primary leader of all instructional efforts through Curriculum Trak. We also provide a limited list of staff training opportunities for those schools who would like more direct support in equipping their staff to undertake the work of Curriculum Mapping. Our training options fall into the following categories:
Included Training Opportunities:
> Setup Consultation - a sixty-minute overview of Curriculum Trak and identification of specific steps to fully configure a new Curriculum Trak account
> Rollout Consultation - a sixty-minute overview of our recommended training process for an instructional team's first introduction to Curriculum Trak
> New Administrator Consult - a sixty-minute technical review for any new school leadership
> Unlimited Technical Support - account leadership can submit an unlimited amount of technical support requests through our ticketing system
> Live support by request - account leadership can request a phone call or video conference with Curriculum Trak support to get help completing specific technical responsibilities within your account
Recommended Training Opportunities:
The following options are provided through "training seats" built into your school's annual fee. Additional training seats can be purchased as needed for $250 each. Training seats renew each year.
CT Certification Training - Curriculum champions will participate in a comprehensive overview of the Curriculum Trak platform, an outline of recommended practices, and collaboration and goal setting discussions. As a result, attendees will be equipped to shepherd the long-term mapping project. (more info...)
Level 2 CT Certification Training - Curriculum champions will take a deep dive into specific aspects of mapping with a goal of equipping them to lead specific professional development around those topics. (more info...)
Remote Training Webinars - Allow the Curriculum Trak training team lead your staff training events into the basic use of Curriculum Trak. (more info...)
Remote Training Expectations: Be Fully Present! Curriculum Trak designs its training offerings to be as engaging as possible in a remote setting. In order to help every attendee be successful, we provide a basic checklist of technical and practical considerations we ask every attendee to follow. Find out more here.
Video Courses
A collection of recordings for both school leaders and full instructional teams. These videos provide some basic instructional followed by some prepared discussion questions. (more info...)
Consulting Webinars or On-Site Training
Curriculum Trak works with a network of consultants. We would be happy to connect you with one to explore any variety of institutional, instructional, or practical elements of school operations including some of the following topics:
> Biblical Integration
> Benefits of mapping
> Evaluation and selection of standards/benchmarks
> Curriculum mapping plan and process
> Curriculum Trak staff training
> Curriculum Trak reports and analysis
> Developing your leadership team
> Achieving your mission
As always, be sure to contact support with any specific training or professional development questions. We are always happy to support you in your efforts.